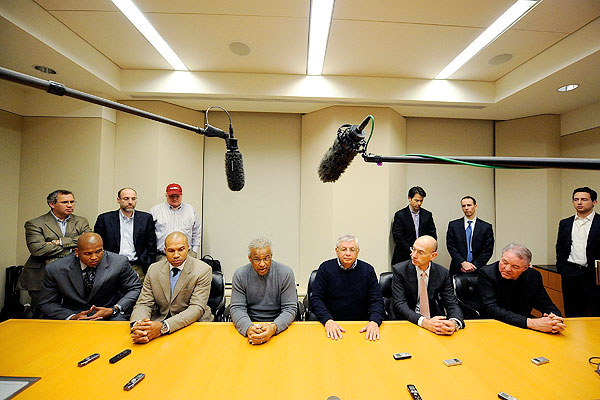 NBA will be starting on Christmas Day this year, so here's to getting another fantasy basketball league started.
Returning managers from last year will have priority sign ups and have already been sent invitation emails (so be sure to check the email you used for the league last year).
Once you have accepted your invitation, please confirm your participation by posting in this thread.
Others interested may still sign up and post on this thread as after the returning managers, sign ups for this competition will be based on a first-post, first-serve basis. The first 12 people to sign up will be guaranteed a spot as a participant. There will be a waiting list for those signing up after the first 12. If there are enough people for a second league, that will be arranged as well.
To sign up, please leave your username, your timezone, and your preferred date and time of drafting.
Sign up Example
Username:
Dav
Timezone:
PST (GMT-8:00)
Preferred Draft Date and Time:
Weekdays / 11:11pm
Note to all: After you have been sent an invite for the league, please confirm your participation by replying in this thread and posting your

Team Name

from which we will be able to recognize you.
Let the season begin!
__________________
PARTICIPANTS
1.
Dav
- For Love (GMT-8:00)
2.
khaotic
- Mudkips (GMT-5:00)
3. Aoes - Dime Patrol (GMT-8:00)
4.
shinobi
- shinobi_BEST_CHA_CHA (GMT-5:00)
5. Physica - Physica Chino (GMT+2:00)
6. qazqazqaz8 - K&F (GMT-8:00)
7. burpyierz - Rose MVP (GMT+1:00)
8. psyduck215 - Romance 3 Kingdoms (GMT-5:00)
9. imket - imket (GMT+10:00)
10. aiyaya - da bRICKS (GMT-5:00)
11. Team Disease ??
12. Baller ??
__________________
DRAFT INFORMATION
Date:
TBD
Time:
TBD, however, the latest time offered by Yahoo! is 8:45PM PST (For reference, last year's draft was 8:00PM PST)
Note #1: Draft date and time listed on Yahoo! (12/10/11 @ 8:00PM PST) was just a mandatory process to create the league. It serves as only a possible date and time for the live online draft.
Note #2: If you cannot make it for the Live Online draft, you will be automatically enrolled in the Autopick draft where players will be drafted based on Yahoo! default rankings or your own pre-ranking of players.
__________________
League Settings
Scoring Type: Head-to-Head
Playoffs: Week 22, 23, 24 (6 Teams)
League Start Week: TBD
Roster Changes: Daily - Today
Note: With the new addition to Yahoo! fantasy basketball, players are now allowed to update their rosters and see the change on the day of the update.
Positions and Roster Size
Point Guard (PG) --
1
Shooting Guard (SG) --
1
Guard (G) --
1
Small Forward (SF) --
1
Power Forward (PF) --
1
Forward (F) --
1
Center (C) --
1
Utility (Util) --
3
Bench (BN) --
3
Stat Categories - Standard 9 Cat
1. Field Goal Percentage
2. Free Throw Percentage
3. 3-Point Shots Made
4. Points Scored
5. Total Rebounds
6. Assists
7. Steals
8. Blocked Shots
9. Turnovers
Note: If you would like to see the inclusion of more categories, please suggest so via this thread at which point, a vote will be taken; majority will rule.
Again, to sign up, please leave your username, your timezone, and your preferred date and time of drafting.