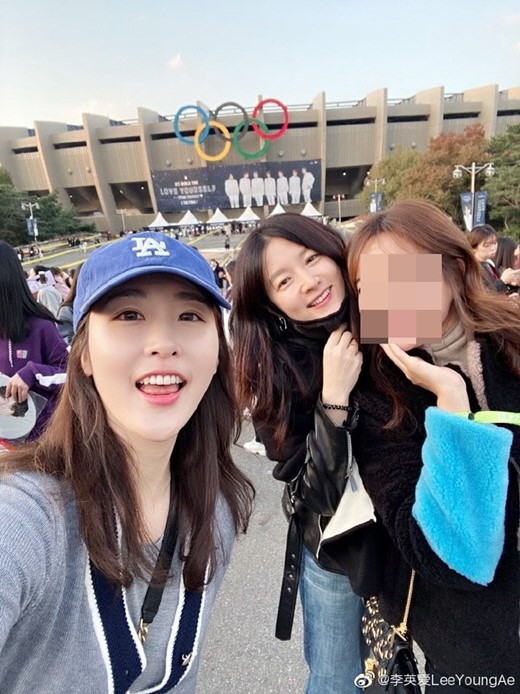 Actress Lee Young-ae has certified herself as an "ami." (BTS fan)
On the November 2, Lee Young-ae posted a picture in her Weibo account with the words, "I've been watching the BTS concert. I am looking forward to their new song."
The photos released included a certification photo against the backdrop of Jamsil Olympic Main Stadium where BTS concerts were held along with Shin Ah-young, an announcer. Despite her modest black jacket and makeup-free appearance, she still attracts attention.
BTS hosted their Love Yourself: Speak Yourself 'The Final' concert on October 26, 27 and 29, which concluded their Love Yourself Tour.
On the other hand, Lee Young-ae is about to release the movie "Find Me" on the 27th.
Original Post : Naver
1. [+607 -15] Why are you so beautiful…?
2. [+467, -18] At Lee Young-ae's level she could just go into the waiting room and meet them but she just went to the concert quietly.. amazing
3. [+253 -137] Lee Yeong-ae Song Hye-kyo's two most beautiful people
4. [+116 -8] Wow … pretty
5. [+79 -14] When I was young, Kim Hee-sun and Lee Young-ae's beauty was just mesmerizing.
6. [+26, -2] Beauty is beautiful, but there's an atmosphere.
7. [+15, -1] How could you be so fu*king… Wow, the beauty of another world…
8. [+15, -1] What about these people? Where do they buy tickets? 
9. [+10, -0] She's so modest, but she's so pretty…. Not even people in their 20s cant stand out.
10. [+11, -3] Kim Hee-ae is also a BTS fan ^^