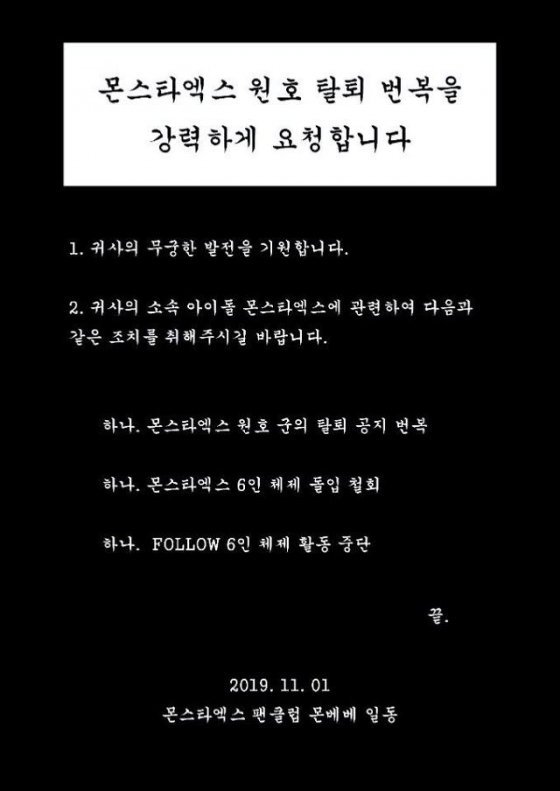 Monsta X's fan club MONBEBEs, demands "reversing Wonho's withdrawal."
MONBEBEs said on Thursday, "I hope we can undo the withdrawal of the Monsta X Wonho."
MONBEBEs said "I wish you the best of luck. The following actions should be taken with respect to Monsta X:
Requirement: Monsta X Wonho's withdrawal notice reversed, Monsta X 6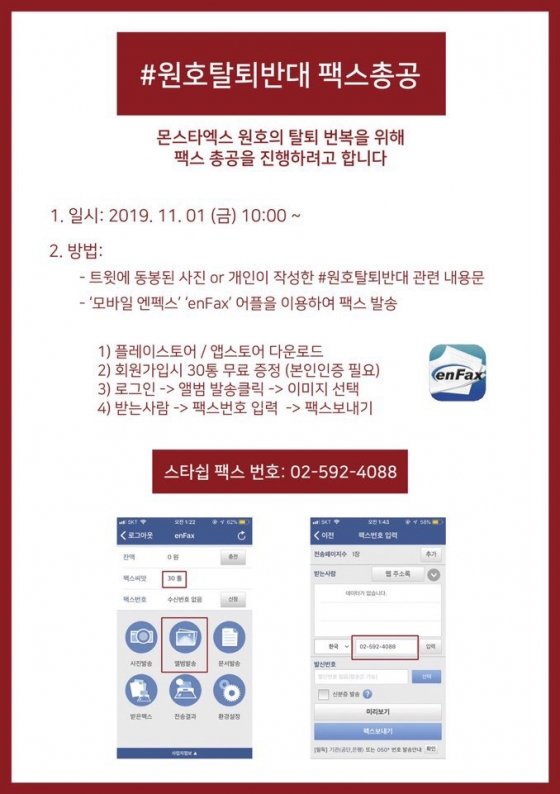 # I love you # I'm running a hashtag movement.
The hashtag "# Wonho I Love You" reached about 780,000 times based on real-time at 9 a.m.
In addition, fans of MONSTA X are actively campaigning against WonHo's withdrawal by holding a protest by posting post-it notes at the Starship Entertainment building on the 1st, and conducting a fax operation at Starship starting at 10 a.m. on the 1st.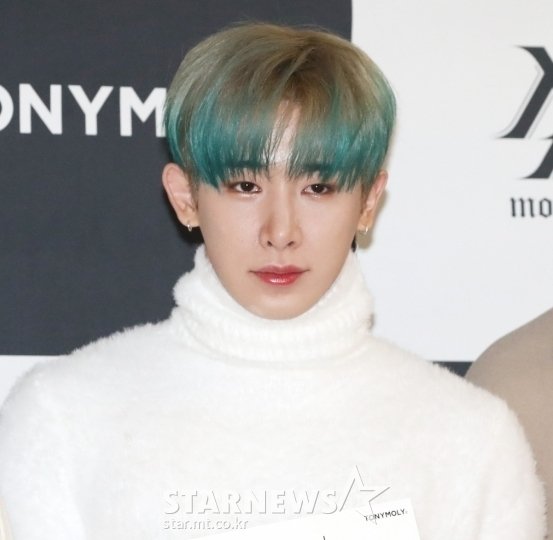 MONBEBEs sent the admission to Monster X's agency, Starship Entertainment, and is carrying out a hashtag campaign on Twitter.
Meanwhile, Wonho announced his withdrawal from the group on the 31st. "I had a time when I was immature and there were mistakes, big and small, but since I made my debut and became a trainee, I have tried not to be ashamed of myself," he said, adding, "I'm sorry to have caused damage to my members and, above all, to my fans who trusted me."
"We have decided that Wonho will leave Monsta X," StarShip Entertainment said. "Wonho will not take part in the schedule after today, and the future Monsta X schedule will be carried out under a six-member team."
Original Source : Nate
Article post [+13, -145]
1. [+425, -7] He's smoking weed?
2. [+19, -0] Dog Pig
3. [+18, -0] You druggie
4. [+23, -0] Fans, it's not that. If you don't want to be more insulted by your favorite entertainer, just let him leave.Isn't it funny to be active when you've done something wrong?
5. [+13, -0] What's the difference between you and your mother?
6. [+18, -1] Are you writing this article to defend the criminals?
7. [+15, -0] I'm so lost
8. [+4, -0] Wake up fans
9. [+4, -0] Hey, hey, hey, hey, hey, hey, hey, hey, hey, hey.If we save Wonho, we'll all die.
10. [+18, -0] I'm from juvie. I'm glad I have a fan.