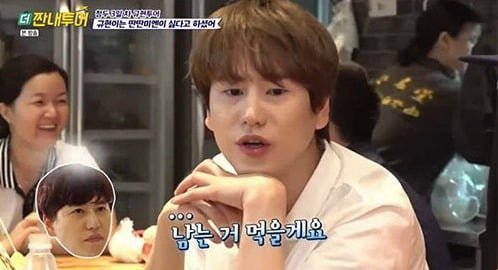 Singer Kyu-hyun showed off his fluent Chinese skills.
On tvN's entertainment show "Salty Tour" which aired on Friday, Kim Jun-ho's "Blessed Tour," which was designed on the second day of his trip to Chengdu, China, was broadcasted.
On the last day, Kyu-hyun was in charge of designing the trip. He led the members calling it the"Kyu-Hao Tour" with the word "Hao" meaning good in Chinese. He expressed confidence in his tour around Chengdu because of his fluent Chinese skills.
He confidently took the members to the bus stop saying "Let's go to breakfast." However, the weather was not good and everyone was worried but he assured them that "It wont rain today", but soon it rained a lot and he was embarrassed.
Eventually, he bought an umbrella at a convenience store and unexpectedly ended up spending 30,000 won. "I'm full just to see you eat," Kyu-hyun said at the restaurant "I'll eat leftovers."
Original Post : Nate
You can read more about Salty Tour Here
I will update with netizens post comments if there are some