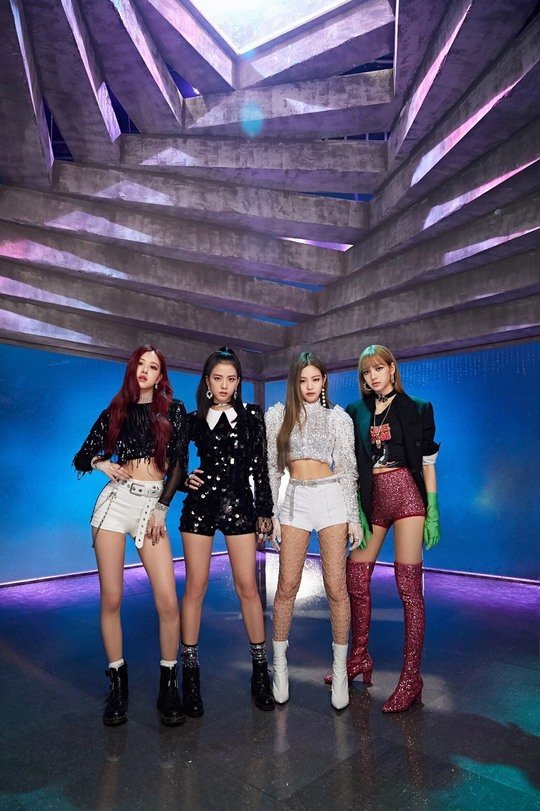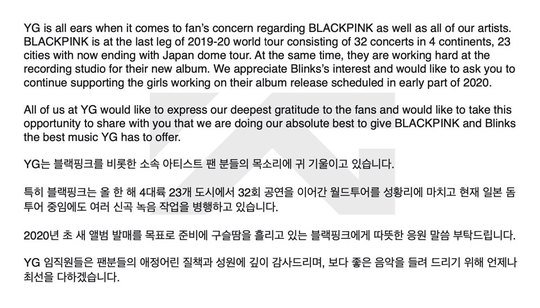 Black Pink is working on a new album slated for early 2020
BLACKPINK released mini album 'KILL THIS LOVE' in April. In December, the Tokyo Dome concert was completed successfully.
On January, they will hold 4 concerts in Japan at Osaka Kyocera Dome and Fukuoka Yahoo Ork Dome.
Among them, BLACKPINK fans expressed their disappointment that BLACKPINK has not released new songs since April and is not attending the year-end stage. On the 16th, a truck was mobilized in front of the YG building in Mapo-gu, Seoul to demand more activities of BLACKPINK.
The following is the full text of YG's official position.
"YG is all ears when it comes to fan 's concern regarding BLACKPINK as well as all of our artists. BLACKPINK is at the last leg of 2019-20 world tour consisting of 32 concerts in 4 continents, 23 cities with now ending with Japan dome tour. At the same time, they are working hard at the recording studio for their new album. We appreciate Blinks 's interest and would like to ask you to continue supporting the girls working on their album release scheduled in early part of 2020."
All of us at YG would like to express our deepest gratitude to the fans and would like to take this opportunity to share with you that we are doing our absolute best to give BLACKPINK and Blinks the best music YG has to offer.
YG listens to the voices of fans including BLACKPINK.
In particular, BLACKPINK finished their world tour, which was performed 32 times in 23 cities on four continents this year.
While performing on the Japanese Dome Tour, they are currently recording several new songs.
Please give warm support to BLACKPINK, who is working hard to prepare for the release of a new album in early 2020.
YG's employees are deeply grateful for the fans' affection and will always do their best to provide better music.
via Nate
*will update if there are Netizen comments on this article*