As the controversy grows, I will post an apology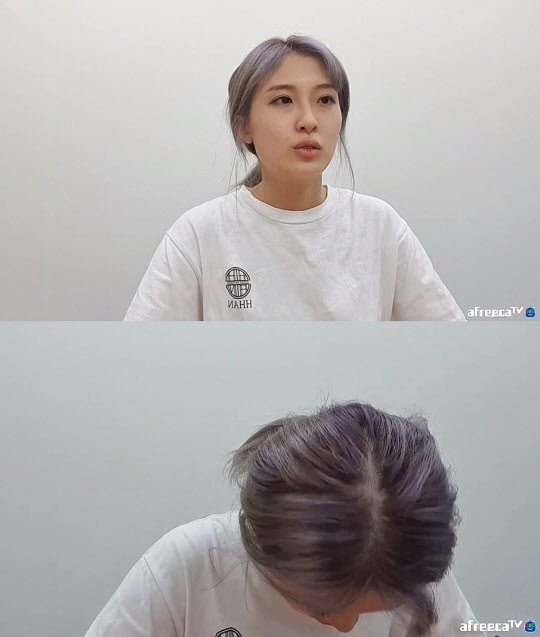 Yang Pang live broadcast capture
Popular YouTuber Yang Pang, who has 2.13 million subscribers, has closed all videos on her YouTube channel, saying, "I will live with self-reflection forever." However, did not directly mention 'retirement'. Yang has gained huge popularity among teenagers and 20s by communicating with subscribers with her friendly image and making videos of family sitcoms, daily life and singer activities. In June, she was appointed as a goodwill ambassador for Busan.
Yang has been under intense criticism for the so-called hidden advertisement, which hides the fact of advertising and sponsorship from viewers and shoots promotional advertising videos as if they are buying or using them. Recently, following stylist Han Hye-yeon and singer Kang Min-kyung, popular YouTubers such as "Moon Bok-hee" and "Bogyeom" admitted to hidden advertisements and apologized one after another.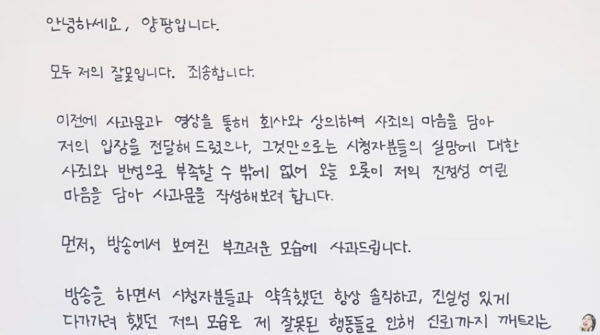 On the afternoon of the 10th, Yang Pang posted a 7:05 second video titled "I will live in reflection for the rest of my life" on the YouTube channel, and set all the remaining videos to private. The information section of Yang Pang's YouTube channel shows that the existing videos have been closed to the public as the entire view count (1.4 billion views) is still available. According to YouTube, if you delete all videos from a channel, you cannot see the views in the channel information section.
An apology of tears from both sides … "Discovering the situation in lies"
Yang Pang read the self-written apology in a tearful voice in the video, saying, "I have consulted with the company through an apology and video before and delivered my position with a heart of apology, but that alone is not enough for viewers' disappointment, so I am trying to write an apology with my sincere heart." The apology did not include the word "retirement."
Yang Pang said, "My always honest and sincere approach to the viewers during the show has resulted in my wrong behavior, which has led to a breach of trust," adding, "I have not informed the viewers properly (that this is a sponsored video) but only cared about the dramatic production while planning the show."
"I lied that it wasn't an advertisement and made it look like it happened suddenly, which caused confusion," she said.  When she stopped by the store of sports brand P in March and uploaded the video as if he had accidentally received 3.85 million won worth of products for free with the consideration of the head office, but this was recently found to have been fabricated.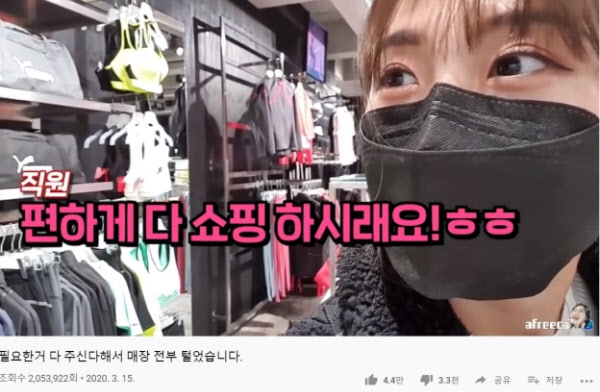 "I hate myself for being only able to say I'm sorry for the repeated guilt and arrogant thoughts that I've given you." "I'll take responsibility for all the mistakes and put down the honorary ambassador of Busan City and live a life of reflection." I will deeply realize my mistakes and live with sincere remorse," she said.
However, the reaction of subscribers was cold. In the video, 'This is the person who committed illegal acts. There were dozens of comments such as "Cancel your subscription right away," "Take responsibility if you did something wrong," and "Why don't you retire when you say you're sorry?"
Spontaneous sponsorship of 3.85 million won, turns out to be planned… a lie detected
Yang  previously posted a four-minute and nine-second video titled "I'm sorry" on her YouTube channel on the 8th and apologized for the controversy over her back-door advertisement.
She said in the video on the 8th, "Even though it was an advertisement video, we did not give an accurate prior notice of the advertisement during the live broadcast. We lowered the video because we were afraid and afraid that these acts would be criticized after the controversy over the back advertisement." Earlier, while hosting a chicken "eating show" (eating show), Yang Pang replied to the viewers' question of "Isn't it an advertisement?" but it was revealed that the video was also sponsored.
Particularly controversial was the video taken when Yang visited the store of sports brand P in March. At that time, she posted a video titled 'I robbed the store because I thought they would give me everything I needed.' In the video, She visited a store in P company and accidentally bought the products for free with the consideration of the head office. In the video at the time, she entered the store and appeared to ask, "Can I shoot?" spontaneously.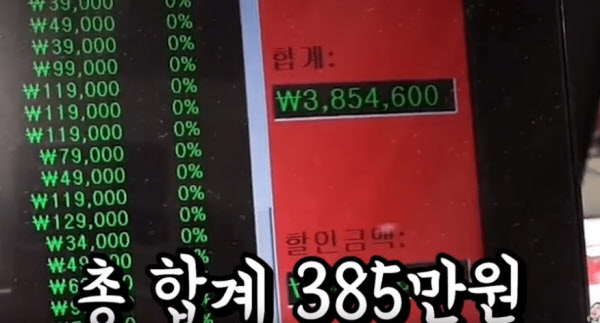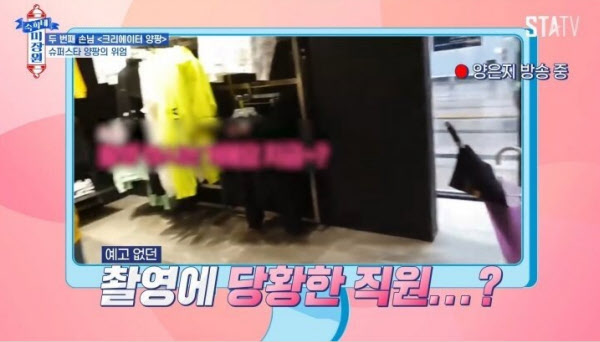 I made the advertisement seem like an impromptu sponsorship during the live broadcast, causing great confusion," adding, "I sincerely reflect on and apologize for my confusion and disappointment with my short knowledge of advertising and complacency."
via : Naver
The latest Netizen Buzz
1. [+1736, -13] Unsubscribe and cancel
2. [+806, -13] You'll never retire. You'll never get paid.I can't quit easily because people are going to give me money because it's going to be fun if I drag it a little bit.
3. [+767 -6] Han Hye-yeon and these guys are evil. My money will be frozen to death.
4. [+599, -139] she retired because she was tired of malicious comments and falsehoods.
5. [+171, -5] YouTubers who hide the truth from subscribers only to make economic gains, pack lies and lies to deceive and hurt subscribers!! The prosecution and police must rule the sentence for fraud and blackmail to prevent damage to good subscribers. It's time for the country to step up and apply the law, including YouTube-related non-toxicity and irresponsibility.
6. [+55 -2] Don't give me a job name that doesn't sound like a YouTuber or a creator. When I was in school, my parents and my homeroom teacher met on YouTube
7. [+49, -0] These kids earn more than 100 million won a month. Would they retire? Youtuber has no choice but to do a three-month tax audit. There's no way the government's supposed to work.
8. [+31, -0] Let her and Kim Bogyeom out permanently. I don't want to see both of you.
9. [+23, -0] Besides, she was so controversial that she apologized five times a year, so I'm done.
10. [+20, -0] There are still 2 million subscribers…