28 years old Ham Yeonji on 3 years of marriage "I wanted to get married after my first meeting."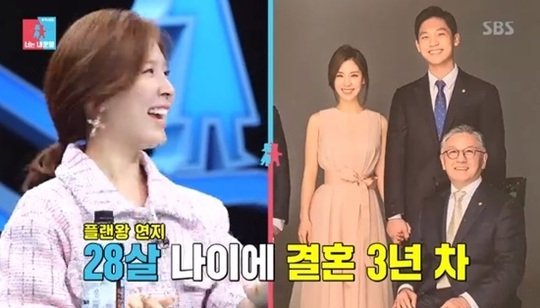 Ham Yeonji said she wanted to get married when she first met her husband.
Ham Yeonji appeared as a special MC on SBS Same Bed, Different Dreams 2: You Are My Destiny which aired on October 28
"I was in a hurry to get married." Ham Yeonji said, "I wanted to marry this person from the very beginning when I met them.
MC Seo Jang-hoon asked, "First Love?" And when she answered, "It's not the first love," the other MCs laughed "Why do you ask such a question?"
original post: Nate
My personal quote : Fyi she is the grand daughter of an honorary chairman who is part of the Ottogi Corp (Conglomerate) that manufactures instant packaged curry, mayonnaise and ketchup. Her husband is a general public worker in the financial industry.
Post [+738] [-42]
1. [+11, -17] I have been living a life of twenty-one years. I have met all the chaebols (rich conglomerate people), but they were all idiots.
2. [+7, 0] It's the best thing to live without worrying about money , have a bright face peace and quiet .. the subway way to work .. Look at the faces of our common people.
3. [+21, -1] It's just clear. I envy you. It's more clear than money. clear and clear
4. [+32, -1] You're good at studying and you have a pretty face. You're good at money. I'm so jealous.
5. [+8, -9] I'm 28 and have nothing! You married well!
6. [+20, -6] At least you're not 38 and single!
7.  [+18, -5] You married well
8. [+7 -2] A Fairy
9. [+97, -1] You look like a thirty-five ㄷ ㄷ 
10.[+516, -36] Beautiful clothes. Children of chaebols don't get sponsorship, do they?