Red Velvet Members Profile , Facts , Height & Names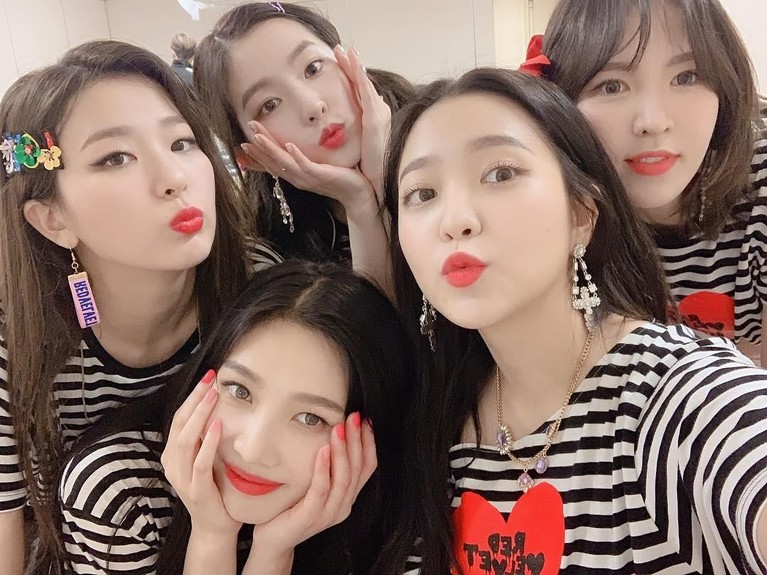 Red Velvet (레드벨벳) was formed by SM Entertainment on August 1, 2014. The 5 member female Kpop band consists of Irene, Wendy , Joy , Seulgi and Yeri (whom was later added to the group on March 2015).  The group debuted with the single "Happiness" to much success and continued on the trend with other songs such as "Ice cream Cake" , "Russian Roulette" and "Rookie".

Red Velvet Profile
Members: 5 Girls
Country: South Korea
Red Velvet Debut: August 1, 2014
Record labels: S.M. Entertainment
Fandom Name : ReVeluv
Fandom Color : Pastel Coral
Official Website
Facebook
Instagram
Twitter
VLive
 Red Velvet Profile
Irene


Birth Name: Bae JooHyun (배주현)
Stage Name:  Irene (아이린)
Family: Father , Mother , Younger Sister
Position: Group Leader, Rapper , Dancer
Birthday: Friday, March 29, 1991 (Good Friday)
Zodiac: Aries (The Ram)
Height: 160 cm (5'2″)
Weight: 44 kg (97 lbs)
Blood Type: A
Home town : Daegu, Buk-gu , South Korea
Instagram: @renebaebae

Irene Facts
* She has Acrophobia which is the fear of heights.
* She is the most flexible member of Red Velvet.
* She dislikes coffee beer and chicken! She has gotten sick from eating chicken when she was young and avoids eating it now.
* BoA is her favorite artist.
* Her talents are dancing , singing , acting and rapping
* She is the oldest member in Red Velvet between her and Yeri with a 8 year age gap.
* She is really sensitive to smell and likes to keep nice smelling things around her such as a nice fragrance spray and her favorite smell is fresh laundry
* Her favorite type of music are slow ballads and rock but she these days she prefers quiet and relaxing music.
*Her favorite types of ice cream flavors are Vanilla , Green tea and Strawberry along with Almond Bonbon.
* She likes to cling onto other peoples arms as a habit.
* She likes cooking seaweed soup for her other Red Velvet Band Members.
* She has a shy personality but only when you get to know her she's very playful and affectionate.
More Awesome Facts About Irene

Yeri


Birth name: Kim Ye-rim (김예림)
Stage Name: Yeri (예리)
Family: Father, Mother , 3 Younger Sisters
Position: Rapper , Dancer , Vocalist, Maknae (youngest member)
Nick names: Squirtle (resemblance), Yeriana (likes Ariana Grande) , Malgeumi (which means bright)
Home Town: Seoul, South Korea
Birthday: Friday, March 5, 1999
Zodiac: Pisces
Height: 165 cm (5'4″)
Weight: 49 kg (108 lbs)
Blood Type: O
Instagram: @yerimiese
Notes: Joined Red Velvet in March 2015 as the 5th member.

Yeri Facts
* She joined Red Velvet Last on March 11 , 2015
* She has a rare blood type which is "O"
* She is the shortest and youngest member of the group.
* Her ideal guy is Jo In Sung , she stated that she would rent out an entire restaurant if she could just to have a meal with him.
* She represents the color Purple in the group.
* Her favorite deserts are ice cream and chocolate.
* Her first music video appearance with the group was in "Ice cream cake".
* She likes to eat bread a lot , pretty much everyday.
* Out of all the Red Velvet members , she is considered the messiest.
* Her English name is Katy.
* She likes Hello Kitty.
Seulgi Facts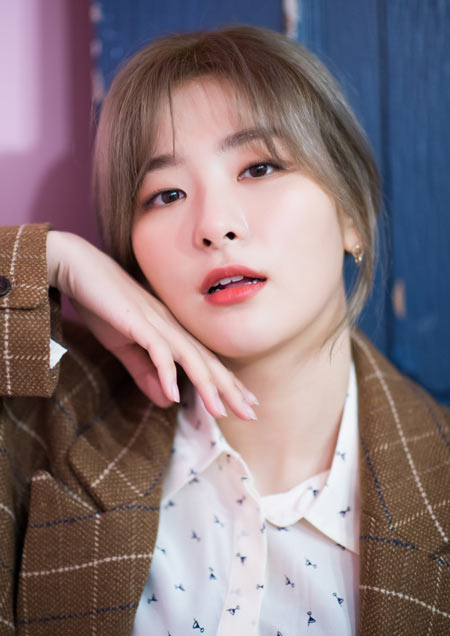 Birth name: Kang Seul gi (강슬기)
Stage Name: Seulgi (슬기)
Nick Names: Teddy Bear (From f(x) Amber) , GomDoli (means teddy bear) (곰도리) , Kkangseul (Her name combined) (깽슬)
Home Town:  Ansan, South Korea
Family: Mother , Father, Grandmother , Older Brother
Position: Main Vocalist & Dancer
Birthday: Thursday February 10, 1994
Zodiac: Aquarius
Height: 160 cm (5'3″)
Weight: 44 kg (97 lbs)
Blood Type: A
Instagram: @hi_sseulgi

Seulgi Facts
* She was feature pre-debut in two of Henry Lau's music video "Fantastic" and "Butterfly"
* She was measured live during a taping of a show titled "Kids These Day" where she came out to be 5'3″ at 160 CM tall.
* She likes to draw and play the guitar on her free time.
* Some fans nicknamed her "Sringles" because of her love for "Pringles"
*One of the S.M executives wanted her to use the stage name "Rowoon" but she insisted on using her name instead.
* She was casted through S.M public auditions and trained for 7 years before debuting with Red Velvet.
* Her representative color is pineapple and her designated color is tangerine yellow.
* Her favorite color is orange.
* She can speak Japanese
* She likes to collect stickers , notes and pens.
* She likes new age acoustic music and calming sounds.
* Her ideal type of person is someone who smiles and laughs a lot.
* She can imitate an ostrich really well.

Joy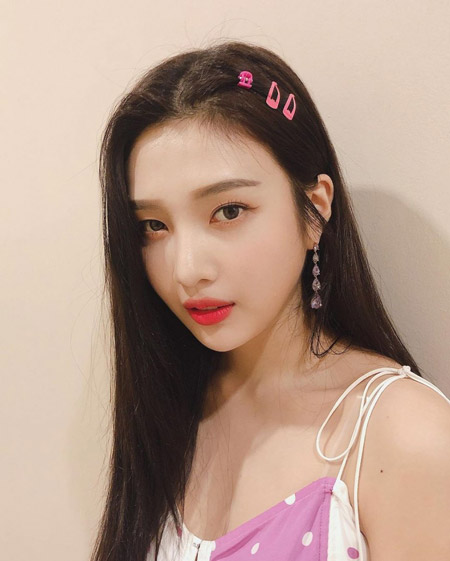 Birth name: Park Soo Young (박수영)
Stage Name: Joy (조이)
Nick Names: kkyeopjoy (cutie joy) Maelgeumi (which means bright) Doongdoongie (teased with this when she was chubby)
Home Town:  Jeju Island, South Korea
Family: Mother , Father, 2 younger sisters
Position: Leader Rapper & Vocalist
Birthday: Tuesday September 3, 1996
Zodiac: Virgo
Height: 167cm (5'6″)
Weight: 54 kg (119 lbs)
Blood Type: A
Instagram: @_imyour_joy

Joy Facts
* She is designated the color green
* She likes to sing karaoke and watching movies
* Her dog has an Instagram account
* She auditioned and joined Red Velvet in 2012 and trained for 2 years before debuting.
* She is into Trot music
* She likes to collect lip balm and claims to always space out.
* She likes the number 31 because Baskin Robbins has 31 flavors and she loves to eat ice cream.
* Her favorite singer is Ariana Grande
* She loves taking selfies and eating chicken
* She likes to plan things ahead of time
* She likes to meet and call up with her sisters as a stress reliever
* She can eat all types of foods but prefers chicken and no crust pizza
* She wanted to be a dog trainer

Wendy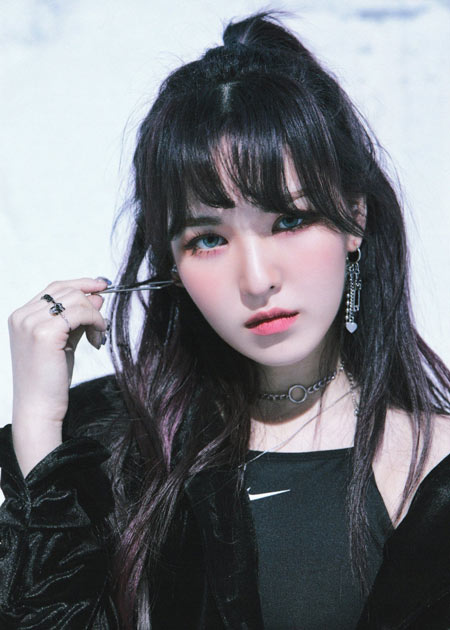 Birth name: Shon Seung wan (손승완)
Stage Name: Wendy (웬디)
Nick Names: Olaf (she looks like the snowman from the movie Frozen) , Wan ah, Wanda , Angel Wan , Wen Mom , Smooth Wan
Home Town:  Seongbuk-dong, Seoul, South Korea
Family: Mother , Father, Older Sister
Position:  Vocalist & Dancer
Birthday: Monday February 21, 1994
Zodiac: Pisces
Height: 160 cm (5'3″)
Weight: 47 kg (104 lbs)
Blood Type: O

Wendy Facts
* Moved to Canada (Brockville, Ontario) with her sister in grade 5 to study
* She used to make Youtube videos but has since deleted her account.
* She auditioned for Cube Entertainment but failed then tried out for S.M Entertainment global auditions in Canada and was accepted in 2012.
* She can play various instruments such as the piano , flute , saxophone and guitar.
* She has a bad memory and is always forgetful.
* She is a positive person and always has a positive attitude.
* She likes to cook and play instruments
* she wants to learn how to make her own music such as composing and writing.
* She always wanted to be a singer since she was 5 years old.
* Her favorite types of food are home cooked meals , pasta , Kimchi soup , spicy noodles, walnut pie and cookies.
* Her ideal person is someone who likes to eat because she likes to cook and she also wants a caring person with a nice laugh that smiles all the time.

Newest Video