The Fair Trade Commission has issued a correction order to SM Entertainment Co., Ltd. (here in  fter referred to as "SM") and the Korean Federation of Culture and Arts Industry that interfered with singer group JYJ's broadcasting and singing activities.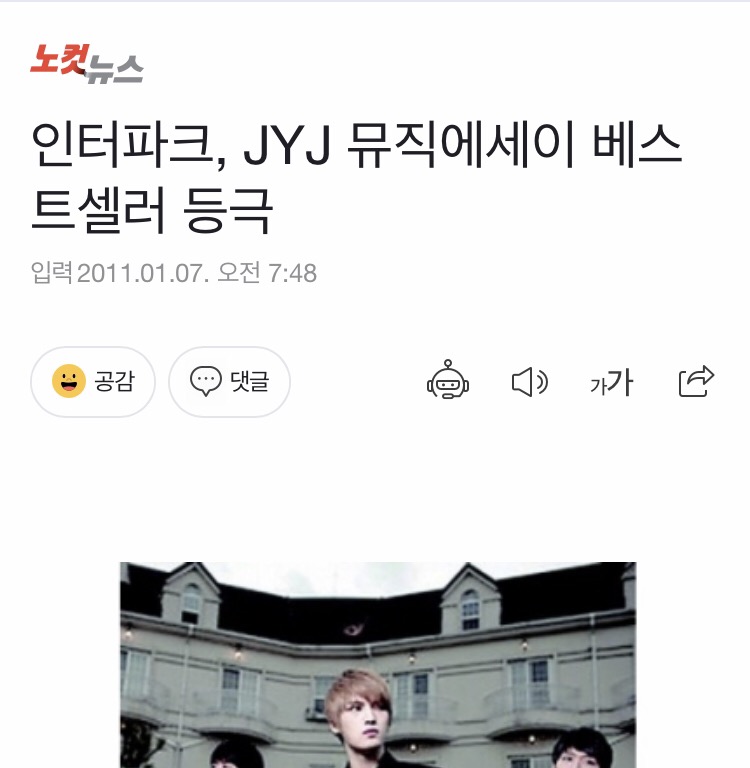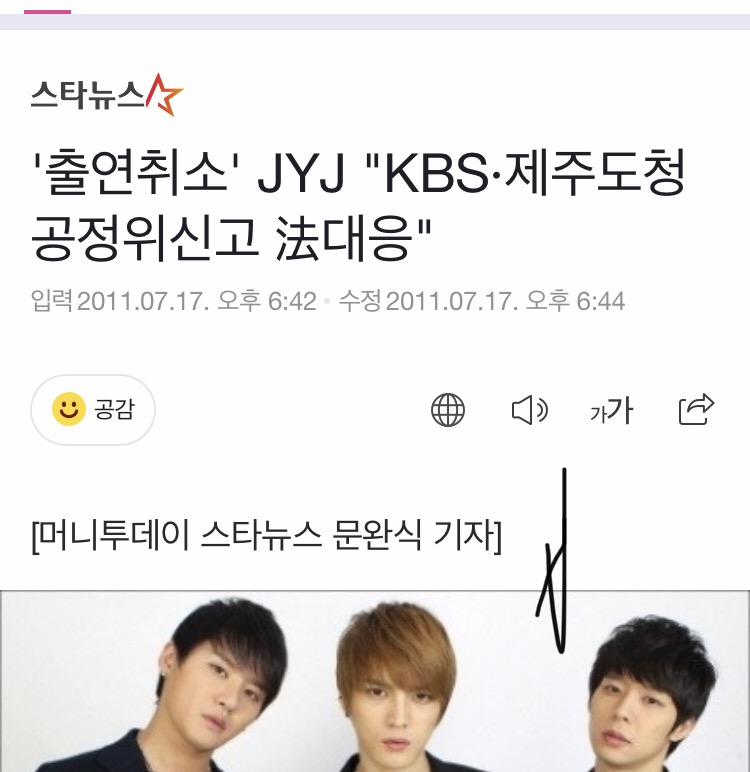 Around June 2009, three members of TVXQ, a group of singers belonging to SM, became independent, raising questions about the unfairness of their exclusive contracts with the agency, causing a legal dispute with the agency.
When JYJ released its first album in October 2010 and tried to resume their singing career, SM interrupted the entertainment activities by sending an official letter to industry insiders asking them to refrain from casting or appearing on the show.
The agreement between SM to refrain from casting or appearing in broadcasting programs, distributing records and music was notified to 26 operators, including broadcasting companies, music and music distributors, through an official letter written by SM.
On July 31, 2009, JYJ applied for the suspension of validity of its exclusive contract with SM, and the court decided to quote SM, which includes a ban on signing contracts with third parties related to JYJ's entertainment activities, raising objections to JYJ's entertainment activities and banning calls for discontinuation of relations.
Later on Oct. 29 at a press conference, SM criticized the nature of the JYJ-related case as a "public fraud." SM ('April 2010') and JYJ ('June 2010') filed a lawsuit arguing for the validity of the exclusive contract, but the legal dispute was concluded with a mediation agreement on November 28, 2012.
During the lawsuit, SM sent an official letter to Warner Music Korea Co., the distributor of JYJ's first album, to stop releasing JYJ's album ('10. 10. 2) and applied for provisional disposition. In addition, after the incident ('10. 10. 11), JYJ applied for indirect coercion against SM's obstruction of entertainment activities ('10. 12. 9), which the court cited.
The court acknowledged that SM is likely to violate JYJ's obligation to prevent obstruction of entertainment activities, considering holding press conferences and sending proof of contents. In addition, SM discussed ways to refrain from entertainment activities in order to maintain order in the entertainment industry.
In particular, just before the release of the album, SM sent an official letter to 26 music and broadcasting service providers, including broadcasting companies, to refrain from appearing in JYJ's broadcasting programs and distributing all records and music.
The official document required the inclusion of unconfirmed unilateral claims by SM, such as JYJ's "Application for Disposable for Monetary Profit Only" and "Signing Double Contracts with Other Agencies."
In particular, he pointed out to JYJ that popular culture and Hallyu, as well as legal issues, will take a backward path when appearing on TV shows, casting, and distributing albums. Considering the influence of SM as one of the three major agencies and the characteristics of Mun San-yeon, which consists of entertainment-related organizations, the official document put considerable pressure on related operators.
Since then, JYJ has been unable to appear in music and entertainment programs despite considerable record sales, limiting their activities as a singer in Korea.
1. [+56, -1] Both Kim Jae Joong and Kim Junsu can't broadcast, but they still have a lot of fans and keep working hard, so the fans trust the singer and they're both good to the fans, so the things I felt while watching them for a long time are the same and they always sing sincerely.I've never seen him do anything wrong, so there's still an influx, because he's good at managing things.
It's MBC. Cut that staff out.
2. [+42, -2] thank you for supporting us and voting for us. Above all, thank you so much for posting on SNS and V LIVE at midnight. Thank you so much. Thank you for writing this.
3. [+10 -0] This was the most shocking thing I've ever known.LOL
4. [+10 -0] Let's be happy. Don't be sick.
5. [+10, -0] Really… 10 years…That's so mean. I've seen you dance and sing. You deserve to be considered idol singers. I hope to see you on TV. I'm rooting for you!!!!!We'll run together all day. No, I'll keep supporting you tomorrow.
6. [+9 -0] They are OG idols should be treated with more respect!

7. [+9, -0] I want you to pay attention to Ailee as well as jj. Just be interested in this kind of thing.ᅲ
8. [+5, -0] No rebuttal. This article is a fact
9. [+5, -0 if there is still harsh retaliation behind someone who has done the right thing, then the next generation should be able to inform and reveal the truth so that it can be broadcast properly. I'm so shocked that I haven't been broadcast yet.
10. [+2 -0] Wow it's been that long already? 10 years