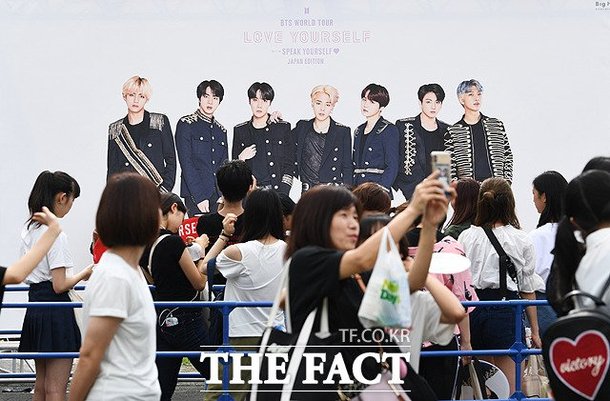 Relations between Korea and Japan are still cold, but the relationship between Big Hit Entertainment , BTS and Japanese fans are still hot. On the other hand, fans of other countries who are alienated from their love complain that they are like mirages because they see them too much.
BTS, the global group of Big Hit Entertainment, left for Japan on Wednesday afternoon to attend a fan meeting through Gimpo International Airport. BTS, which held a fan meeting in Chiba, Japan from April 23-24, will meet Japanese fans again at Kyocera Dome in Osaka from April 14-15. In less than a month, it is already holding two fan meetings in Japan alone.
Why is Big Hit so keen on tapping into the Japanese market? Although they have dominated the world with Korean songs, we can see how much effort they are putting into Japan by releasing a Japanese album only in Japan. The number of performances and fan meetings is the highest, and the MD (Merchandise) is more diverse.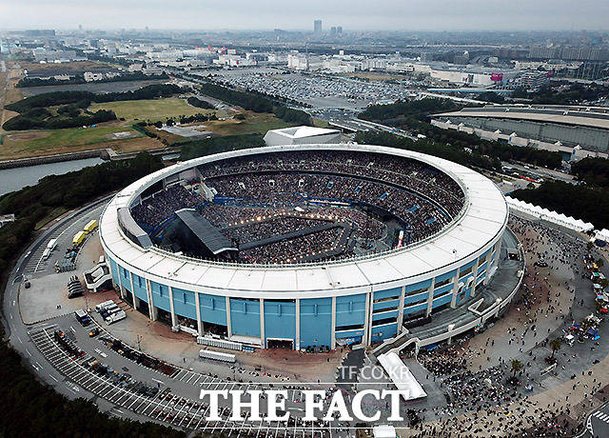 An official from the music industry said, "It is like any country, but Japan has a localization strategy that is important. It is the know-how of Japan's strategy from the first generation of Korean wave singers so far. There is no reason for BTS to take a safe path." He explained how Big Hit prefers to hit the Japanese market.
Big Hit will release various contents of BTS in Korean. Translations in English, Japanese, and Chinese are provided depending on the situation. On the other hand, Big Hit's CEO Bang Si-hyuk expressed his pride at the Cultural Innovation Forum of the ASEAN-Korea Special Summit last month, saying, "When Korean content is released, fans translate it."
However, the pride of President Bang Si-hyuk changes to an exception with Japanese fans. Too much is like falling short. Fans began to feel uncomfortable about the Japanese versions, which was prepared for the convenience of Japanese fans. When looking at various communities, BTS is not uncomfortable with 'Japanese fan preferential treatment' such as 'Occasional Japanese debut, but I don't want Japanese version anymore'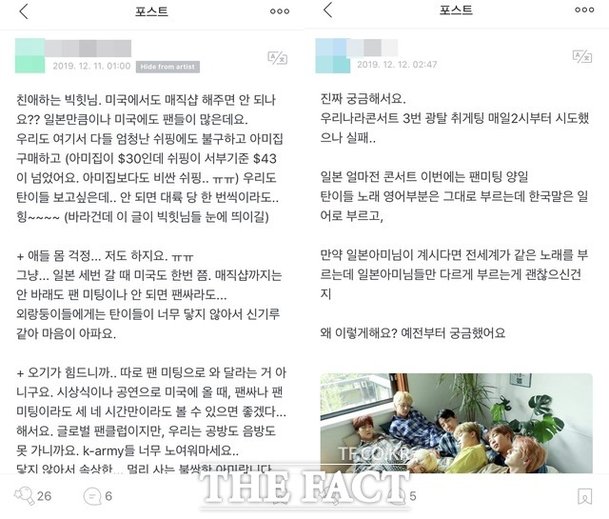 Big Hit's special interest in Japan is also reflected in fan clubs. There is a global fan club and Korean fans belong to it, but a Japanese fan club is operated separately. In response, Ami South Korea issued a statement in July stating 'separate the Korean fan club'.
They said, "As a national fan club, there is no one in the global fan club." But this ended with an empty cry.
Big Hit's 'Japanese favoritism ' can also be found in the merchandising. Even though there is an official big hit shop application Weply, there is a separate 'BTS Japan official shop', and 'Japanese merchandising is more diverse'. Wepley started selling Japanese MDs under the category 'Japan Fan Meeting'.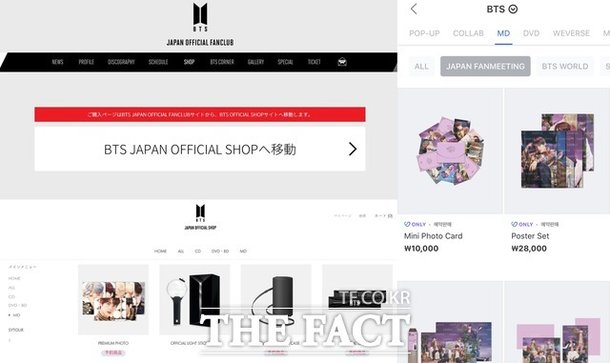 Quite a few Korean fans have been sad about Big Hit's "Japanese favoritism." Then, following the cooling of Korea-Japan relations, triggered by economic retaliation, Japan's boycott movement took place in Korea, which led to more negative views.
"It's bitter. It's a separate activity, but do I have to go to this country?
Even considering the larger market, fans are dissatisfied with holding even more concerts in Japan. Korean fans have more chances to see BTS stages than other fans through music broadcasts, but one stage and a concert are very different.
BTS started the world tour 'LOVE YOURSELF' in August last year and extended 24 tours in 13 countries for 14 months to the stadium tour 'LOVE YOURSELF: SPEAK YOURSELF'.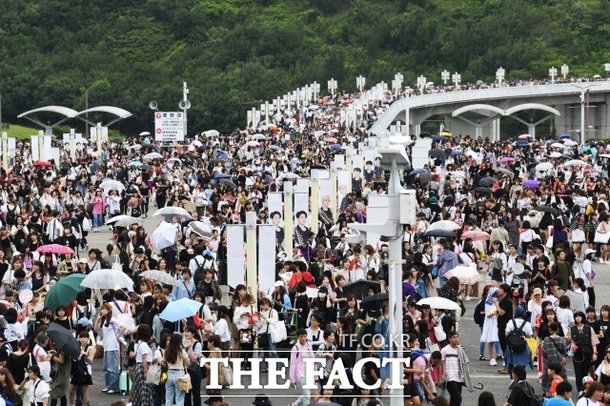 Among them, they performed 13 times in 5 cities in Japan alone. The total number of the world's 2.26 million spectators is 590,000 in Japan. In Korea, on the other hand, they performed five times in Seoul alone. Considering the size of the music market, it is quite a big difference.
The United States, the largest market, they performed 17 times in seven cities, no difference from Japan. It is unfortunate for domestic and foreign fans who could not get it even if they wanted to buy a ticket.
Japan is the second largest music market in the world and has a well-equipped infrastructure. Above all, fans' loyalty is higher than any other country. For a limited time, Japanese activities have the best value. But leaves fans of other countries feel the alienated.
On November 11, a fan in the United States told Weavers, "Dear Big Hit. Can I have a magic shop in America? There are as many fans in America as Japan." BTS feels like a mirage and hurts. "
Contrary to the wishes of the fans, BTS, who finished their world tour, held a fan meeting in Chiba, Japan on the 23rd and 24th of last month, and held Japanese fan meets in Osaka on the 14th and 15th.

The latest Netizen Buzz
1. [+2,526 -244] Why do you make Japanese Albums?
2. [+1939 -246]  Scraping Japanese money is always welcome
3. [+128 -23]  Korean singers working in Japan know that the contract is included in the contract to sing in Japanese? I don't like it so much in Japan, but what are you supposed to do? And the performance in Japan is a lot of money, of course. It's not big hit advocacy. It's just talking about the facts. So in Japan, the world's second largest music market, you'll be doing a lot of concerts or fan meetings;
4. [+94, -7] The first singers to Japan from Korea
The release of Japanese albums and contracts with Japanese management when working in Japan was required as an essential clause. Since BTS are in a good position, it would be good to improve these contracts little by little so that future singers will not sing in Japanese.
5. [+53, -7] All the singers who entered Japan are active .. The contract itself is Japanese music, new songs and so on.
6. [+47 -8] How about all the other singers who came to Japan?
7. [+34, -6] Let's just leave it alone or talk about how all  singers are doing it in Japan.
8. [+26, -4] I think you're going to need to do Japanese activities with a Japanese album.
9. [+24, -0] Hallyu exports help the Korean economy
10. [+22, -4]  Japan has a really big economy for buying music thats why.